Memohon secara dalam talian
Visit our office
Mail documents
We prepare your documents and application
Menerima visa
Submit application in person
Pakar dalam perkhidmatan visa Australia sejak tahun 2003
VisaHQ is a private visa agency, not affiliated with the government of Australia. VisaHQ provides
expediting services
error-proofing your application
hand-carry delivery to Consulate
real-time status updates
dedicated call center
for visa to Australia and charges a service fee. See how we compare in the 90 seconds
video
All non-resident travellers are banned from entering Australia. Foreign nationals, including immediate family members of an Australian citizen or permanent resident who do not hold a valid Partner visa, are required to apply online for an exemption prior to entering the country. Exemptions are granted at the discretion of the Commissioner of the Australian Border Force.
Mengisi Australia visa pelancong borang permohonan dalam talian
and send the following documents to VisaHQ:
a
Pasport Malaysia yang bertandatangan asli dengan baki tempoh sah 6 bulan..
b
Itinerary. Copy of flight / travel itinerary (departure and return).

c
Bank Statement. Copy of a recent bank statement showing proof of sufficient funds.

d
Employment Letter. Copy of a letter from your employer on business letterhead, with contact details, stating that a leave of absence has been granted, purpose and duration of the trip, and that you will be returning to your current job. If you are self-employed, include a copy of your business license and tax return. For students, please submit an official letter from your school indicating that you are in good standing and that you are registered for the upcoming semester. If you are retired please submit proof of your retirement fund.

e
Personal Invitation. If visiting friends or family, you must provide letter of invitation with the contact information of the host and visitor, purpose and duration of the visit, confirmation of accommodation including the address, signature and date. You will also need to provide proof of the host's status in Australia ie. copy of their Australia passport's information page, or, if they are not a citizen of Australia, copies of their Australia residence permit and their national passport's information pages.

f
Military ID. Applicant's ORIGINAL military ID.

g
Marriage License. Copy of the applicant's marriage license.

h
Birth Certificate. Copy of the applicant's birth certificate.

i
Certificate of Character or Police Record. Recent Certificate of Character or Police Record with Embossed Seal from applicant's Country of Origin.

Australia visa pelancong bayaran untuk warganegara Malaysia
Jenis visa

Tempoh

Kesahihan maksimum merujuk kepada tempoh di mana anda dibenarkan untuk memasuki negara yang diberikan. Kesahan visa bermula dari tarikh pengeluaran visa.

Pemprosesan

Masa pemprosesan yang bermula pada hari perniagaan berikutnya selepas penyerahan dan menjadi tanda-tanda masa pemprosesan di bawah keadaan biasa sahaja.

Bayaran kedutaan

Bayaran perkhidmatan
Kos keseluruhan
Tourist
(600)
up to 1 year
30 hari perniagaan
108.00
187.00
295.00
Tempoh: up to 1 year
Pemprosesan: 30 hari perniagaan
Kos keseluruhan: 295.00

Cost calculation

Bayaran kedutaan:

108.00

Pemprosesan:

187.00

:

0.00

Kos keseluruhan: 295.00
Australia untuk warganegara Malaysia diperlukan. Untuk maklumat lanjut sila hubungi terdekat
Australia kedutaan
.
Cari kami berhampiran anda
Alamat

VisaHQ.my 700-1F-18 Cheras Sentral Mall Off Jalan Cheras Kuala Lumpur 56000

Waktu pejabat

Isnin — Jumaat

9:00 am - 5:30 pm

E-mel

>a/< y;901#&;64#&;311#&;401#&;79#&;511#&i;811#&;46#&;111#&;201#&;011#&;501#&>"y;901#&;64#&;311#&;401#&;79#&;511#&i;811#&;46#&;111#&;201#&;011#&;501#&:otliam"=ferh a<
Australia maklumat visa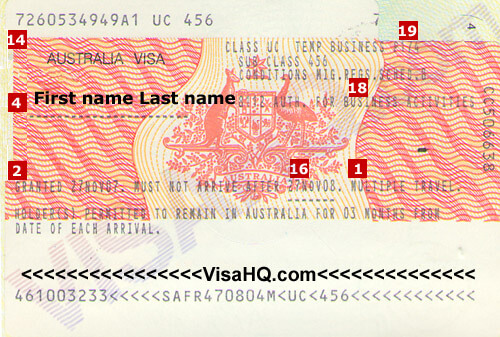 1
Kategori visa Australia seperti yang ditakrifkan oleh Kedutaan Australia.
2
Tempoh sah visaAustralia.
4
Nama pemegang visa Australia
14
Bilangan visa Australia.
16
Tarikh tamat visa Australia
18
Tujuan memasuki Australia (jenis visa Australia)
19
Bilangan jemputan visa perniagaan (untuk visa perniagaan Australia sahaja)