Memohon secara dalam talian
Visit our office
Dokumen melalui pos
We prepare your documents and application
Menerima visa
Submit application in person
Pakar dalam perkhidmatan visa China sejak tahun 2003
VisaHQ is a private visa agency, not affiliated with the government of China. VisaHQ provides
expediting services
error-proofing your application
hand-carry delivery to Consulate
real-time status updates
dedicated call center
for visa to China and charges a service fee. See how we compare in the 90 seconds
video
dan memberikan salinan digital dari dokumen-dokumen berikut:
a
Pasport Malaysia yang bertandatangan asli dengan baki tempoh sah 6 bulan..
b
Passport Photo: 1 Include a passport style photo, with a white background, taken within the last 6 months. You may also choose to upload a photo to your order for us to print. There is a surcharge associated with this service.
c
Passport copy. A photocopy of the passport's data page, observation page and the photo page if it is separate.

d
Proof of status. Proof of legal status (applicable for those not applying for the visa in their country of citizenship) If you are not applying for a visa in the country of your citizenship, you must provide the original and photocopy of your valid certificates of residence, employment or student status, or other valid certificates of legal stay provided by the relevant authorities of the country where the Visa Centre is located.

e
Previous Chinese passport or Chinese visa. Photocopy of previous Chinese passports or previous Chinese visas (applicable for former Chinese citizens born in China, including Hong Kong, Macau and Taiwan). If you are applying for a Chinese visa for the first time, you should provide the last Chinese passport held (if applicable) and a photocopy of its data page. If you have obtained Chinese visas before and apply for a Chinese visa with a renewed foreign passport that does not contain any Chinese visa, you should present the photocopy of the previous passport's data page and the photo page if it is separate, as well as the previous Chinese visa page (If your name on the current passport differs from that on the previous one, you must provide an official document of name change).

f
Additional documents. Any one of the following documents:
(1) Round-trip flight ticket booking record and hotel booking record under the applicant's name; OR
(2) An Invitation Letter for Tourist issued by a relevant unit or individual in China.The invitation letter should contain:
• (a) Information of the applicant (incl. full name, gender, date of birth, etc.);
• (b) Details of the planned visit (incl. arrival and departure dates, place(s) to be visited, accomodation arrangements, etc.);
• (c) Information of the inviting party(incl. name of organization or person concerned, contact telephone number, address, official stamp of the organization, signature of the legal representative or individual).

g
For minors. For applicants under 18 years old, apart from the current documents, the following documents are also required:
(a) Passport information page of their parents or guardians. And for non-passport holders, the photocopy of their Malaysia Identification Card and Marriage Certificate shall be provided.
(b) Photocopy of the applicant's Birth Certificate.

China visa pelancong bayaran untuk warganegara Malaysia
Jenis visa

Tempoh

Kesahihan maksimum merujuk kepada tempoh di mana anda dibenarkan untuk memasuki negara yang diberikan. Kesahan visa bermula dari tarikh pengeluaran visa.

Pemprosesan

Masa pemprosesan yang bermula pada hari perniagaan berikutnya selepas penyerahan dan menjadi tanda-tanda masa pemprosesan di bawah keadaan biasa sahaja.

Bayaran perkhidmatan
Kos keseluruhan

Consultation

up to 3 months
3 - 5 hari perniagaan
99.00
99.00
Tempoh: up to 3 months
Pemprosesan: 3 - 5 hari perniagaan
Kos keseluruhan: 99.00

Cost calculation

perkhidmatan kami:

99.00

:

0.00

Kos keseluruhan: 99.00
China untuk warganegara Malaysia diperlukan. Untuk maklumat lanjut sila hubungi terdekat
China kedutaan
.
China maklumat visa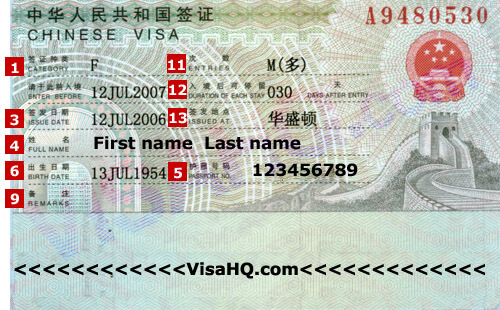 1
Kategori visa China seperti yang ditakrifkan oleh Kedutaan China.
3
Tarikh visa China dikeluarkan ( (format mungkin berbeza dari MM-DD-YYYY).
4
Nama pemegang visa China
5
Nombor pasport pelancong.
6
Tarikh lahir pemegang pasport (format mungkin berbeza dari MM-DD-YYYY).
11
Bilangan dibenarkan penyertaan ke China (tertakluk kepada tarikh sah visa).
12
Tempoh maksimum tinggal di China bagi setiap penyertaan.
13
Konsulat China yang mengeluarkan visa.